Kundalini Yoga Madison – The Mystical Yoga of Awareness
with Pat Ba

ron

e, MCC, KRI, RYT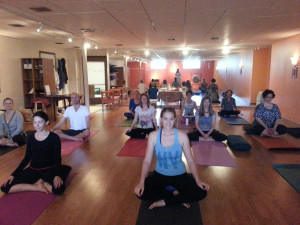 Thursdays, 6-7p
&
Saturdays, 11:00a-12:15p
S P A C E
6333 Odana Road, Suite #1
Madison, WI  53719
 ALL CLASSES:  Drop-in $15 or 10-Class Pass $130
________________________________________
YOGA 10-CLASS PASS
Click here to order Yoga 10-Class Passes!
Kundalini Yoga is a sacred science or technology, and the fastest way to establish an aligned relationship between the body, mind and the soul.
It is the mother of all yogas and the most powerful yoga known. As brought to the West in 1969 by Yogi Bhajan, it produces results 16 times faster than ordinary yoga. "Kundalini" literally means "the curl of the lock of hair of the beloved." This poetic metaphor alludes to the flow of energy and consciousness that exists within each of us, and enables us to merge with – or "yoke" – the universal Self. Fusing individual and universal consciousness creates a divine union, called "yoga."
Did you know almost all illness can be traced back to stress?  79% of all doctor appointments result from stress too!
Leave the madness of the over-busy world behind and let Kundalini Yoga increase your mind-body awareness. Experience conscious breathing, guided movement, meditation and mantra.
What would take a person 20 years with Hatha yoga can be done in a year with Kundalini yoga.  It gives you the ability to rapidly encounter your own ego and to clear out its attachments, so that you can revel in the light of your soul and experience your true identity.
When your Kundalini energy is awakened, your soul drives the car, not your ego.
Remember who you are, love yourself completely, and live more happily!

Kundalini Yoga is considered the most comprehensive of yoga traditions, combining meditation, mantra, movement and breathing techniques. It is a Raj or Royal yoga, encompassing the eight limbs of yoga into a singular practice of excellence and ecstasy.
In each of us dwells a powerful creative energy – the Kundalini energy. The energy often lies dormant at the base of the spine. Kundalini yoga is a practice for awakening this energy to help create the conscious awareness, deliberate intention and self-empowerment that leads to joyful living.
Sign up or get additional information via the form below: